Today, Assistant Minister for Health and Aged Care, Hon Ged Kearney MP and Assistant Minister for Indigenous Health Senator Malarndirri McCarthy, announced the recipients of the Stillbirth and Miscarriage Support Grant. Red Nose gratefully accepts the funding for their brand new program Healing Through Community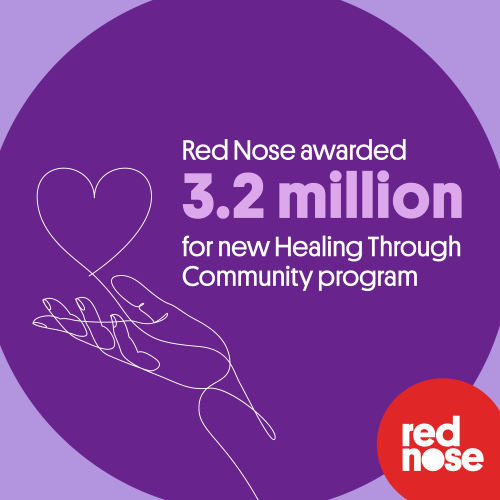 The 3.2 million over three and a half years will build on Red Nose's existing bereavement support services. New bereavement support programs will be fully co-designed with community to ensure suitability, cultural sensitivity and ease of access.
'After experiencing a miscarriage or stillbirth, we know that no single family or individual will need exactly the same care. Despite our best efforts, Red Nose's support services have lacked diversity. We are so excited to receive this funding so that families, regardless of their cultural diversity or geographical location, can access personalised bereavement care that best meets their individual needs.'
Said Red Nose CEO and bereavement specialist, Keren Ludski.
'One of the five objectives of this program is to develop a nationwide shared care referral system. Sadly, we do hear from some families that they didn't know there were services like ours available when they needed it most. They often say they received a pamphlet but never followed up. That's why a centralised support system will help ensure families get the help when they need it."
Said Ms Ludski,
This funding ensures that Red Nose is able to provide individualised, person-centred care for families throughout Australia. Early care and personalised support can help improve the long-term outcomes for families who have experienced the devastation of the death of a baby.
'A very important part of this program will be ensuring it is codesigned with members of the communities it intends to serve. This will allow for better, more individualised bereavement care for the groups most in need.'
Said Red Nose Special Projects Officer and proud Wergaia and Wemba Wemba woman, Skye Stewart.
Red Nose has worked for 40 years to ensure that there is always someone there for families who have experienced a miscarriage, stillbirth, baby or child death, no matter the cause. This program expands upon other services including the 24/7 support line, counselling services, Hospital to Home service, online chat services and both online and face to face peer support groups.
Quotes attributable to Assistant Minister for Health and Aged Care Ged Kearney MP
"Stillbirth can have a devastating impact on women and their families, resulting in ongoing grief, anxiety and depression as well as social and financial losses.

"Our Government is committed to reducing the tragedy of stillbirths on our nation, and particularly to support those in our community who experience stillbirth and miscarriage at a disproportionately high rate to receive timely and appropriate care."
Quotes attributable to Assistant Minister for Indigenous Health Senator Malarndirri McCarthy
"Thousands of Australian families suffer in silence with stillbirth every year and it is so important this critical support is provided in what is often some of the most challenging moments of their lives.

"The support provided by our Government will go a long way in helping families through the grief of stillbirth including those disproportionately affected in rural and remote, Indigenous, and culturally diverse communities."
For interviews and case studies, media contact: Fiona Jordan | 0402 846 867 | fionajordan@rednose.org.au
Donate to help save little lives and support grieving families​