Every month our online Safe Sleep Advice Hub has over 50,000 visits from families seeking information to help keep their baby safe. Receiving almost no government funding, this life-saving educational resource is only available because of your ongoing generosity. Safe Sleep Educator Jessica explains.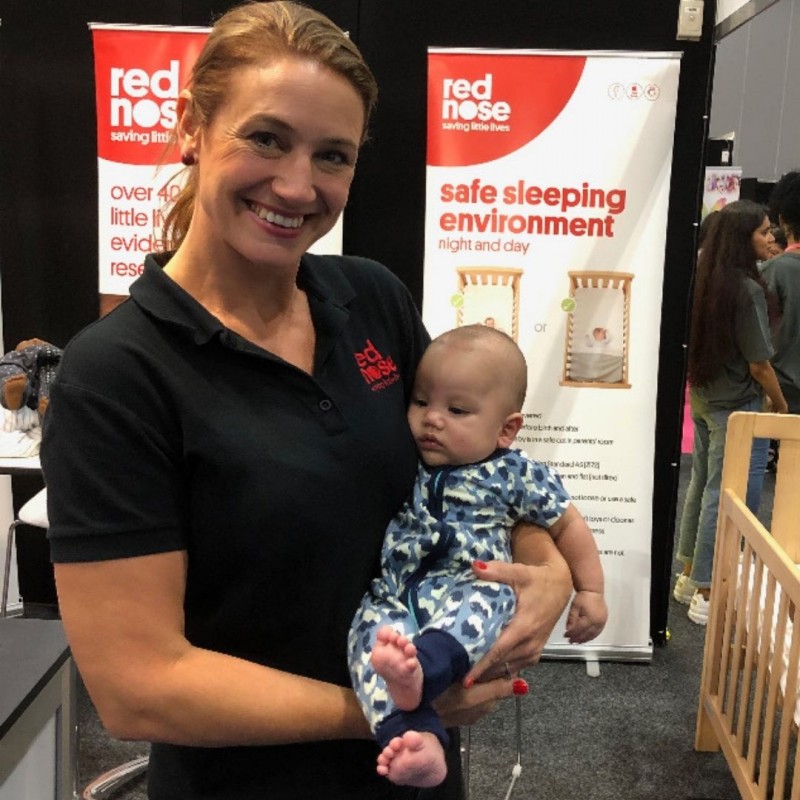 As a Safe Sleep Educator, I know how important it is that we keep educating new parents, healthcare professionals and childcare workers in Safe Sleeping that we know can help reduce the risk of sudden infant death.
A large part of my role at Red Nose is travelling to baby and pregnancy expos, child care centers and foster care agencies to teach parents and carers the important steps they can take to make sure babies are kept safe while sleeping.
But Australia is a big country and especially with the travel restrictions over the last year, many parents and carers can't travel to classes or expos – so it's vital that all of our life-saving information is available online, whenever someone needs it.
Because of you, the Safe Sleep Advice Hub is available 24/7 so that every parent and carer has the tools they need to keep their babies safe – no matter where they live or what time of day.
Before I became a Red Nose Safe Sleep Educator, I was a stay-at-home mum to three beautiful girls, 14 year old twins and a 12 year old.
When I had my twins nearly 15 years ago, I was never told some of the basic safety things we know now. I made so many mistakes.
I know how daunting parenthood is, so I am passionate about ensuring parents and carers have the information they need to keep their precious baby safe.
Thank you so much for helping ensure that our life-saving Safe Sleep advice is available 24/7 to every parent and carer who relies on us to help keep their precious baby safe. Your ongoing support is truly helping to save little lives, every single day.
For Safe Sleeping and Safer Pregnancy information call 1300 998 698 (business hours) or visit our online advice hub.

To help ensure that every parent has access to Safe Sleep advice when they need it most, you can donate here.