Since pandemic lockdowns began in March, calls to our Safe Sleep Advice Line have increased by over 30 percent.
Red Nose Chief Midwife Jane shares how the pandemic has changed the way parents access information, and the new initiative we've introduced to ensure that every anxious parent has access to life-saving advice to keep baby safe.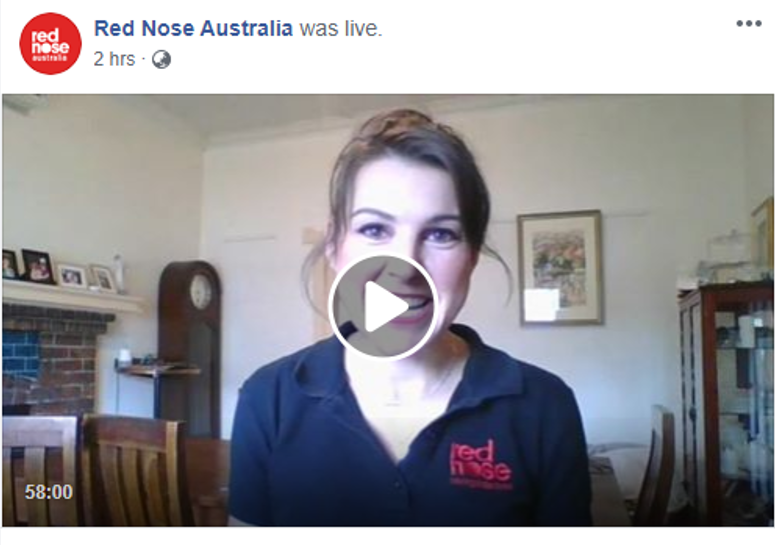 Safe Sleeping education is a vital part of our mission to reduce the rate of sudden infant death and save little lives.
But due to the global pandemic, accessing training is more difficult for childcare centres, midwives, hospital staff and health care professionals – and parents generally have less access to their usual sources of information.
Thanks to the generous support of our community, Red Nose has been able to introduce new Q&A sessions on Facebook, so that even in isolation parents have a safe space to connect and seek life-saving advice.
Usually we deliver vital education at places like childcare centres, hospitals, pregnancy expos and community events – making sure that everyone has the knowledge to keep their baby safe.
Unfortunately, with lockdowns and physical distancing restrictions fluctuating across the country, we are no longer able to conduct face to face training sessions or participate in expos.
The Q&A sessions on Facebook offer a new, fun and efficient way to present safe sleeping information in a format that is readily accessible to large numbers of people.
We've now run five live sessions since the pandemic hit and they were all really well received, with lots of community engagement through questions and comments.
Parents are saying things like:
"I was so worried, but now I know what to do and I feel so much better."
"I'm so glad I checked with Red Nose first."
"I couldn't do this without you."

We know that by July, the number of calls to our Safe Sleep Advice line had increased by over 30%, and those calls still haven't slowed down today.
With even more parents and family members looking for guidance and reassurance, these live sessions are helping to fill an important gap in keeping babies safe across Australia.
Having this kind of connection and reach across our community has been amazing and we plan to make them a permanent fixture of the Red Nose calendar well into the future.
Thank you for making it possible!
For Safe Sleeping and Safer Pregnancy information call 1300 998 698 (business hours) or visit our online advice hub.