Bereaved mother and Red Nose Peer Supporter, Edwina Symonds, shares her story of son, Sebby, who passed away at 10 months old.
With the holidays fast approaching, our thoughts are with the hundreds of families who are dreading a Christmas without their precious little one.
As we count down the days to the new year, the number of calls to Red Nose's 24/7 Support Line from distressed parents and family members increases.
Edwina's story of her son, Sebby
Instead of planning a joy-filled day with family, many grieving parents are struggling with overwhelming feelings of loss, isolation and despair.
And no one knows this more than our Peer Support Volunteers. Like mum of three, Edwina. She connected with Red Nose when her first son Sebby died on 31 July 2018.
When Sebby was six months old, he was suffering from seizures and was diagnosed with a rare genetic disorder.
Tragically, when Sebby was just 10 months old, he suffered a catastrophic seizure that he could not recover from.
A neurologist delivered the devastating news that Sebby's brain had died. Edwina's whole world fell apart in that moment.
Edwina recalls how she immediately thought "my reason for living is Sebby. How can a mother live without her child? How am I supposed to leave this hospital without my baby boy?".
Becoming a Peer Supporter to help grieving families
Today, Edwina has chosen to honour Sebby and his memory by volunteering as a Peer Supporter with Red Nose.
"Even though he didn't get to live a full life, he left behind a legacy for me to live out that now allows me to help others who've faced losing their precious child or baby." Edwina said.
Whether it's in the middle of the night, or the middle of Christmas lunch, our Peer Supporters stand ready to take the flood of calls for help this holiday period.
It's your generous support that helps ensure our 24/7 Support Line is there for every heartbroken parent whenever they need it most – day or night.

DONATE NOW and you can help grieving families in need this Christmas >
It's been four and a half years since Edwina lost Sebby. She recognises how important it was to have grief support options in those first few weeks.
"As a grieving mum, I know the pain of living each day with an ache in my heart. Following Sebby's death, time passed by in a blur. Having that support, especially immediately after he died, was invaluable. I can never repay those volunteers that helped me through those days and weeks." She explained.
Often when we are going through hard times we don't need answers, we just need someone to be there for us and hold our hand through our grief.
That's why Peer Supporter's like Edwina are so important.
Every family's grief is different. We're there to help ensure that heartbroken parents have the support they need after saying goodbye to their little one.
Sometimes, we just need to talk to someone who can sit with us in our pain.
Every day in Australia, nine children die suddenly and unexpectedly. That means that right now over 3,000 families are facing their first Christmas without their precious little one.
It's thanks to Red Nose's 24/7 Support Line, a free service, that grieving parents can be supported through their unimaginable sadness.
And it doesn't matter how long ago that a loss was experienced, or even what type of loss. Peer Support Volunteers are a wonderful group of people who are there to simply listen.
There really is no roadmap to grief and having someone there to listen can make all the difference.
Remembering Sebby every Christmas
Edwina shares that any "first" is incredibly difficult. "Our first Christmas without Sebby was terrible for the family. My brother, Doug, had built a special bond with him and struggled to come to terms with losing his nephew.
"Doug decided to write a special poem in Sebby's honour. It's something my family and I cherish as we continue on our journey of grief."
"I share this poem widely as it's so beautiful in its simplicity, we hope this poem will also bring other grieving families comfort in knowing that they aren't alone."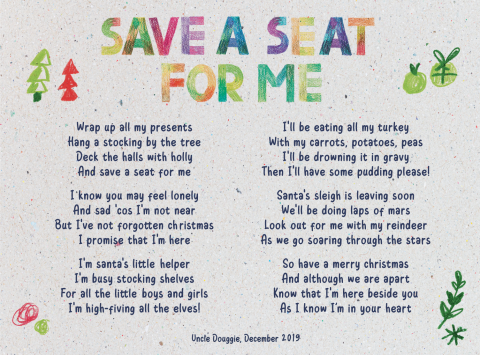 Losing a child is utterly overwhelming, but it can make all the difference just knowing there's someone there who understands and is ready to listen.
We are so grateful for each and every one of our Peer Support volunteers, like Edwina. They make an incredible difference in helping grieving families honour their lost little ones, and heal together.
With your help, families are getting much-needed hope, reassurance and understanding every time their call is answered.
We can't thank you enough for your support towards Red Nose. It's because of you that so many families can access vital support services when they need it most. Thank you.
If this article has bought back any difficult memories, please know that we are here for you. Our free Grief and Loss Support Line is available 24/7 if you need extra support – call us now on 1300 308 307.
DONATE NOW > Your generous gift could fund vital support services that help families who will face the holiday season without their cherished little one by their side.

With nine children in Australia dying suddenly and unexpectedly every day, the demand for our support services is increasing, which is why we need your help.