My name is Maggie and in April this year, my second son Jamie was born at 21 weeks gestation due to a placental abruption which resulted in a preterm birth that he ultimately could not survive.
He was stillborn during lockdown.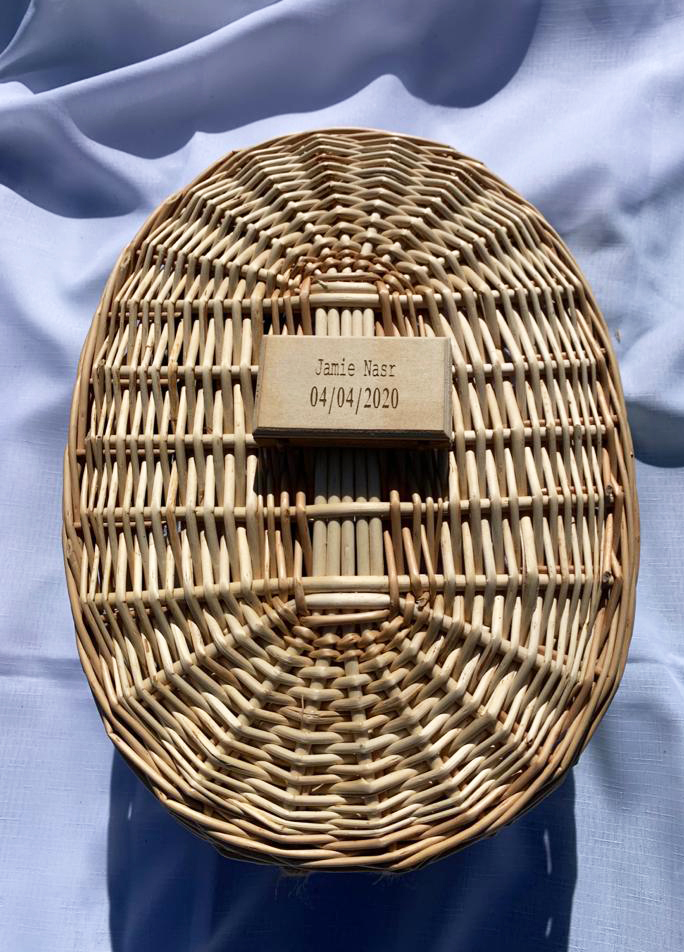 From the beginning of my pregnancy with my second son Jamie, I had experienced bleeding. Something which never occurred in my previous 'textbook' pregnancy with my first born son Marc.
As the pregnancy went on the bleeding became disturbingly worse and eventually the diagnosis of a 'placental abruption' began to gingerly surface.
A placental abruption is the term used for when the placenta detaches from the uterine wall. In my particular case, the abruption was chronic which means that it was happening over time rather than occurring suddenly.
The risks associated with placental abruptions are fetal brain damage due to deprivation of oxygen and nutrients, preterm labour, stillbirth and even maternal death.
Despite this, at every single ultrasound (of which I had many), Jamie presented as a very healthy and growing baby showing no signs of distress.
Then at 21 weeks gestation my body went into preterm labour which could not be stopped.
Jamie ultimately could not survive the birth due to his prematurity and he died moments before he was born.
The pure terror I felt when I realised I was going into labour and that my son wouldn't survive it, is a feeling I don't think will ever leave me.
It was undeniably the most traumatic, yet heartbreakingly bittersweet experience I have ever been through.
It was my first natural birth and although he was no longer breathing, it was still the birth of my second precious baby boy.
I remember looking at him and feeling my heart break as I took in his perfectly beautiful little features.
I will never forget the way his lips were pursed so sweetly as if he were just sleeping and his skin was so dewy and soft - so fresh from my womb.
After the birth, Jamie, my husband Richie and I were cared for by the bereavement midwife at Frances Perry house. Eliza can only be described as an angel.
The kindness, empathy and respect she showed Jamie, my husband and I is something I will never forget.
She supported us in those next few hours by allowing us time and space to be with Jamie, grieve him and try to process what had just unexpectedly happened.
Eliza dressed Jamie in a beautiful knitted beanie and outfit, which had been donated from Red Nose, and she took photos of him, wrote his birth details and took his hand and footprints.
We buried our tiny boy a week later on Easter Saturday and in the midst of Australia's nation-wide Covid-19 lockdown.
Jamie was buried in a woven Moses basket. He was snuggled so perfectly wearing his beautiful baby blue and white knitted outfit and swaddled in the baby blanket I used frequently when his older brother Marc was a newborn.
It gave me comfort to see him looking so warm and wrapped up like he should be as it was a bitterly cold, windy and rainy day.
He was lowered into the grave with ribbons and his little casket nestled upon a bed of flowers.
Although burying him was incredibly difficult, the staff at Natural Grace made it as beautiful as they possibly could.
Eliza also contacted Red Nose on my behalf and I received a call from Heather offering one-on-one counselling and online support groups.
I have received invaluable support in the form of counselling with Red Nose's Rachel.
She has been a great source of comfort over the past couple of months and has helped me greatly in many ways.
I love that she provides me a completely safe space to talk about Jamie as much as I want.
Giving birth, having a stillbirth and grieving my baby during a global pandemic has been a challenge.
The restrictions and lockdowns have affected our experience in hospital and deprived us of further opportunities to create memories of and honour our son.
There's also the relentlessness of acute grief.
There's an unspoken presumption of an expiry date on grief. People expect you to be 'better' after a certain amount of time has passed.
Or people may see you smile on one occasion and decide that must mean you are back to 'normal' and the icky, uncomfortableness of having to give space to grief is gone.
People don't realise that they still need to be gentle with you.
There's a loneliness that comes with experiencing a stillbirth.
Many people haven't experienced it or are afraid of it and are therefore unable to meet you in your grief.
Before we had Jamie we didn't know anyone who had experienced a stillbirth and once we had been through it we realised it is an isolating place to be.
I've noticed in particular how stillbirth makes people extremely uncomfortable.
Sometimes I wished people would ask to see a photo of Jamie because I still gave birth to a beautiful boy, but I know that so many people are very afraid to see a photo of a deceased baby.
I don't feel like the same person I once was and I don't really believe all the things I once did. I have become a much more resilient and raw version of myself.
I think about Jamie every day since he was born.
Often I will get his memory box from the top of my wardrobe, sit on the floor and look at his precious photos.
I will touch the tiny hospital bands that were wrapped around his ankles and kiss his little footprints because I know that the ink and paper touched his skin. Anything to feel closer to him.
I also talk about Jamie often and have occasionally mentioned him in conversation with strangers when they ask me how many children I have.
Sometimes I light a candle at night to honour him.
Sometimes I visit his grave, although I still find this very difficult.
I bought myself a little 'J' initial necklace and I wear it when I especially miss his presence.
I also purchased Jamie a Christmas tree bauble to match the one I have for myself, Richie and Marc.
For me, these little gestures hold incredible meaning and help to acknowledge Jamie's place in our family. I refuse to let death ever take that away from us.
We have also been very blessed to have some very kind and thoughtful people in our lives who have gifted us with mementos of Jamie.
A wooden baby block with his name, birthdate and a poem sits proudly alongside a family photo of Marc, Richie and I.
A Star Name Deed was created in Jamie's honour courtesy of another beautiful cousin and a close friend has purchased a birth poster for Jamie, which will hang next to Marc's birth poster when it arrives.
If someone you know experiences stillbirth or newborn death, please don't shy away from talking to them about it and even saying their baby's name.
Hearing Jamie's name gives me comfort and makes me feel closer to him.
Red Nose Day 2020 was Jamie's due date.
I am yet to decide what we'll do. I predict it will be a particularly difficult day for me, but also one in which I'd like to mark in honour of Jamie's memory.
Before I lost Jamie, Red Nose was already an important source of information for me.
When I was pregnant with my first son Marc we attended a baby safety program at Frances Perry house and we learnt a lot about SIDS, SUDI and safe sleeping.
The information from Red Nose and from that session guided me through those early months with Marc tremendously.
It is imperative that parents have access to correct, up-to-date information regarding newborn and infant care, particularly when there is so much false or dangerous information out there.
This is why Red Nose Day is so important.
Helping save precious little lives and honoring lost little lives is a cause worthy of support and involvement.
Thank you for reading Jamie's story.
I saw this as an opportunity to help spread further awareness about stillbirth, I subject I knew nothing of until it happened to me.
But also as a way of ensuring that Jamie's story doesn't just end at his death.
I also want other parents to know that it is possible to survive an experience like this.
It is deeply painful and instantaneously life-changing, but it is possible to continue on with life even if you don't think you can.
Author Nora McIerny says that we don't really 'move on' from grief, we simply learn to move forward with it. I have found this to be very true.
Your support helps make sure grieving families have free access to vital support services so they don't have to endure the anguish of losing their precious child alone. Donate now.