Meet David, one of Red Nose's proud community fundraisers, who shares his story of taking on a big personal challenge to make a big difference.
Despite a serious fear of heights, David signed up to the Dawesville Bridge Swing, taking the plunge off a 360m high bridge in WA's southwest!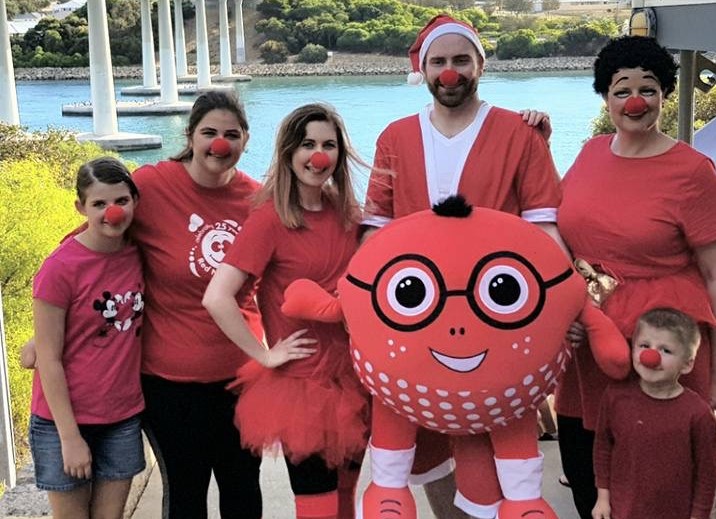 "I've been volunteering with Red Nose for a number of years now, getting involved after a good friend offered me the chance to come along. Since then I've helped out at various events from conventions to sausage sizzles and I've been asked a number of times to be their mascot Sid which has been a lot of fun and laughs.
"I am now a very happy uncle several times over and through volunteering at Red Nose, I have learnt of the struggles that a lot of new families face and the devastation that occurs for someone who experiences the death of newborn. I was aware of it before, but until I held my first niece I couldn't appreciate it for what it was.
"When that same good friend offered a chance to help fundraise for Red Nose I leapt into action - quite literally, by signing up as a community fundraiser where we had to swing off a bridge. For someone who has a fear of heights, this was intense!
"To help myself in both raising the funds and to prepare myself, I offered my friends and family that whomever donated the most could decide the outfit I wore on the day. I ended up going as Santa, because Jessica Rabbit was found out to be a bit too unsafe for the swing. This was slightly better for all the kids watching - however they did get to hear Santa swearing as I jumped off the bridge, twice!
"Taking on such a massive challenge wasn't exactly easy to do but it wasn't difficult either. My family supported me through it all and made sure that when I got nervous they kept me going with jokes, love and cattle prods. The team at Red Nose were great too, even jumping off the bridge with me on the day.
"I thoroughly enjoyed the new experience of leaping off a bridge and the satisfaction that not only had I conquered a fear of mine, I did it while supporting such a worthwhile cause. Plus, I've learnt a lot that I can offer to my friends and family to become the best uncle and emergency babysitter!
Whether your new year's resolution is to run a marathon or conquer your biggest fear, you don't have to do it alone! Why not sign up for a New Year's Red Solution? Learn more