Using second-hand nursery furniture is great way to keep the costs down when planning the arrival of your new bub, but it's important to make sure each product is still safe and fit-for-purpose.
Here some things for you to consider when using second-hand or hand-me-down furniture so you can continue to keep baby safe.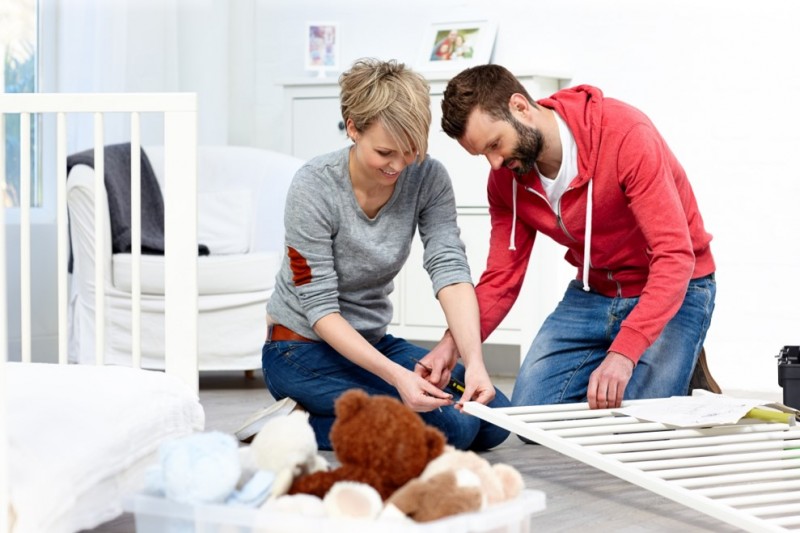 Many families buy, borrow or are gifted second hand baby furniture as a way of saving money and the environment.
Babies grow fast, so it makes a lot of sense to buy second-hand products or use hand-me-downs from families and friends, as many products are only used for a short time they can stay in good condition.
But it's important to make sure all pre-loved items meet mandatory safety standards, are still in good working order, and aren't damaged – unsafe or broken bassinettes, cots and mattresses can increase the risk of baby being injured or dying in their sleep.

Things to look out for when considering second hand nursery products or furniture items
full instructions for assembly and use
the product should be sturdy and stable
do you have all of the parts – don't use if there are missing parts
does it works correctly?
has no tears, sharp edges or sharp points
has had no changes made to it that could make it unsafe, such as the wrong size mattress in a cot, or rough, non-professional repairs
mattresses should be well fitted to the cot, firm and flat
has no history of being in an accident or being damaged
for cradles and bassinettes – is the paint chipped or coming off? Paint on old cradles could be lead-based, which could be harmful to baby.

Things to remember when accepting and using a second hand cots and portacots
A safe cot is one that meets the mandatory Australian Standard for cots (AS/NZS 2172:2003) or portacots ((AS/NZS 2195:1999).
All new and second-hand cots sold in Australia must meet the current Australian Standard – this should be printed in the instructions booklet and often on a label as well.
If you are planning to use a second-hand cot, check that it meets those standards – you can ask the manufacturer or check with Standards Australia.
Only use a firm flat, mattress that fits snugly (within 20 mm of sides and ends) in the cot. The mattress should be flat, not tilted or elevated in any way.
Don't use cot bumpers or soft bedding as these significantly increase risk of sudden infant death and fatal sleeping accidents.
For portacots, make sure there are no rips or tears in the mesh and that the locking mechanisms are in good working order.

Check for safety or product recalls
Not all baby furniture sold in Australia is safe, and products do sometimes get recalled. The Australian Competition & Consumer Commission (ACCC) and Product Safety Australia (and some state-based agencies) can recall products that have been deemed unsafe and or where infants or children have been harmed while using the product.
You can check to see if the second-hand item (or even new items) has been recalled on the ACCC or Product Safety Australia website.

Safe Sleeping
Always remember to practice safe sleeping for all sleeps, both night and day.
Always place baby on their back to sleep
Keep baby's face and head uncovered
Keep baby smoke free before and after birth
Use a safe sleeping environment, night and day
Sleep baby in your room for the first 12 months
Breastfeed baby.
For more Safe Sleeping Advice, visit our Safe Sleep Advice Hub or sign up to our newsletter.

Last modified: 14/11/20