There are many dedicated staff, volunteers and supporters who together make the work of Red Nose possible. This is James's story.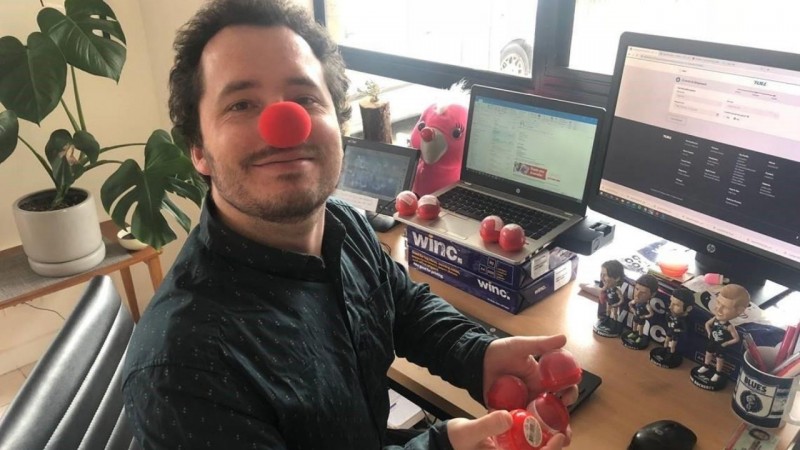 I first became involved in Red Nose Day in my Primary School days, proudly sporting a red nose on the playground - and today I manage Red Nose Day, helping people everywhere buy that iconic red nose.
Previously, I had been working at a corporate job for 6 years but I knew I wanted to do something with a little more purpose.
Working on events and various community programs had been a passion of mine and my partner saw a role with Red Nose and suggested I apply.
I completed a 6-week internship during Red Nose Day in 2017 and loved the connection to supporters and families. I decided that I wanted to make a go of working in the charity sector.
Luckily, a Community Fundraising role opened up at Red Nose a few months later and I jumped at the opportunity!
Today I am the Fundraising Campaigns Manager and I am passionate about coordinating Red Nose Day across the country.
One of the best things about my job is working with a range of different people from different backgrounds and in different departments, who all carry the same passion and dedication for helping people.
I draw a lot of inspiration from people who can listen and support others through tough times and not expect anything in return.
Through my role I get to help create campaigns for supporters to celebrate or honour their loved ones and work with fundraisers who go out of their way to ensure families can access Red Nose services in their time of need – which is a beautiful thing!
Our supporters and families, and the amazing work of our volunteers constantly inspire me.
Because I get the opportunity to speak with our supporters on a regular basis, my reasons for working here are continually reaffirmed.
So many supporters are grateful to be able to hold events and keep the memory of their loved ones alive through activities that bring their friends and family together.
They go out of their way to raise funds for Red Nose and then contact us to express their gratitude for what we do.
I would have to say my favourite memory was attending the Archer Eade Memorial Presentation Night Dinner last year.
This Dinner is an annual event run by a community sports club that embodies the strength and community spirit of Red Nose supporters.
There are so many wonderful events like this that take place every year that make you really proud to work for an organisation like Red Nose.
I would say there is at least one call or email every week that makes me feel very lucky to have the job that I do.
Outside of work, I collect records and enjoy cooking, camping, horror movies and talking about staying in shape (but not actually following through with it)!
Your donations help us provide 24/7 support to grieving families. Sponsor me this Red Nose Day or sign up and create your own fundraiser.