Happy International Day of the Midwife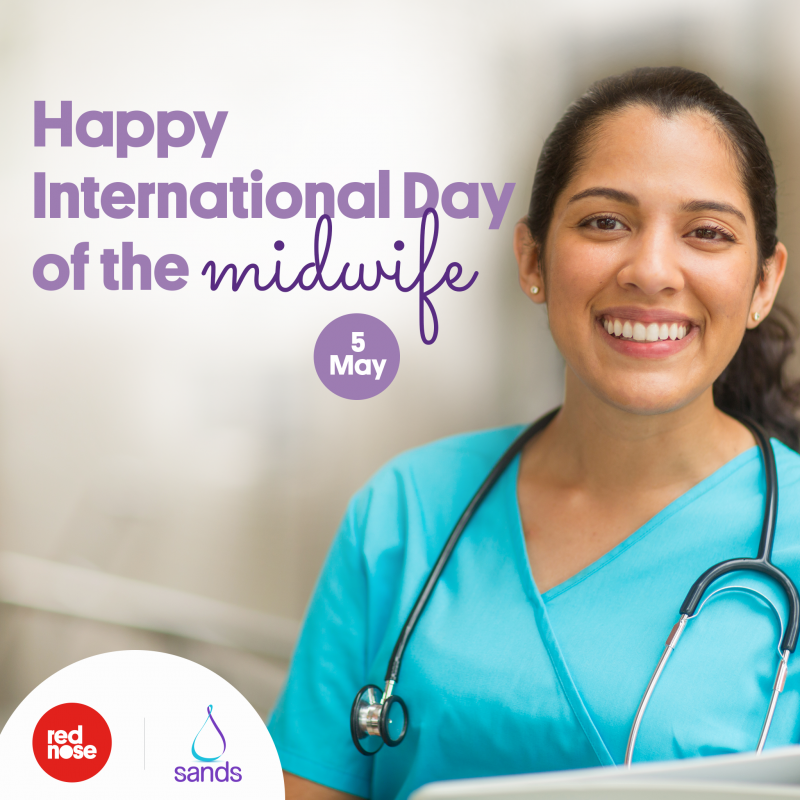 May 5 is International Day of the Midwife.
We acknowledge the amazing midwives who provide crucial bereavement care and support for families when things go tragically wrong.
Thank you for your care, your support and your understanding - it really does make a difference.
Here we share some quotes from families on the beautiful work some of you have done to help a family through the loss of their little one.
When we lost our twin girls, Ava & Evie in May 2020 we were supported by a lovely Student Midwife named Sandra. She was amazing. Anything we needed she made it happen. The best thing we ever did was to agree to have a student midwife. Fast forward to July 2023 when we had our rainbow baby boy - Reuben, Sandra just happened to be on shift that weekend. Again, she looked after us. I love the fact that she got to meet all of our children. She'll always hold a special part of our hearts.
Charlene P
In case I miss this next Friday, please know just how much you all mean to me and my families journey! You supported, you cared & you journeyed alongside me & for that I will forever be grateful!
Jessi P K
The one thing that has stuck with me since losing our daughter was when I apologised to the midwife knowing she would have to go home carrying this weight as well and she said 'it's an absolute honour and privilege to support and help women and families in their darkest time'. Honestly midwives are angels
Kirsty B
The bereavement midwives at the Mater in Brisbane. These ladies all have some personal connection to loss themselves. They went above and beyond for our family when our twin boys were born sleeping and in the weeks and months following, continuing to touch base despite us living 7 hours away.

Also….. one I could not have done without, Cassandra Davey. Receiving a phone call to come and support me birth my babies at the same hospital we had met each other at almost 9 years before. A call to be my support while my husband and older children were travelling the 7 hour drive to get to the hospital. Arriving at the hospital only to be greeted with a sobbing mess as I had just learned our boys no longer had heartbeats. Staying with me and my perfect twins for every minute until my bigger boys arrived, taking photos of the precious moments in recovery and in the days to follow, all the while your own husband and new baby were waiting downstairs. Visiting us EVERY day we were in hospital, bring supplies and forever gifts to remember our babies by. Offering your home for the wake and honouring our babies every single day.

Our boys' favourite Aunty.
Jen M
You made a horrendous experience a whole lot more peaceful. We are forever grateful
Justin P
Pindara Private Hospital midwives on shift when I was induced and birthed my baby boy at 18 weeks after finding no heartbeat the week before were absolutely incredible with their support, words of encouragement and comfort to my husband and myself. They allowed me to lead on what I needed and were beside me every minute I needed them there. I had only had c-sections previously due to medical reasons so to have a birth experience like I did for the most horrible reason was the best it could be thanks to our magnificent midwives. When our baby boy was born completely inside his sac, we all had a moment of awe and quiet connection. When he returned to the room with them in his tiny basket and blanket they were just so respectful and caring. The midwives took inkless hand and foot prints as well as photos for us and presented everything to us when it was time to say our final goodbyes. They went above and beyond and I will be forever thankful for their support and help in getting through the worst day of my life. It was their comforting presence that made the experience as respectful and as healing as it possibly could be for us as parents to an angel
Zoe A
And this quote from a midwife:
It is a privilege and an honour to work with families going through such a heartbreaking time
Neroli M