I had four pregnancy losses in just over one year. We are now in the middle of IVF treatment, hoping to meet another baby to add to our family of four. My family comprises my beautiful partner Nathan, my sensitive souled eldest, Dela and Banksi, my littlest. Banksi is the sunshine mixed with hurricane type, equal parts loving and caring as she is wild and sassy.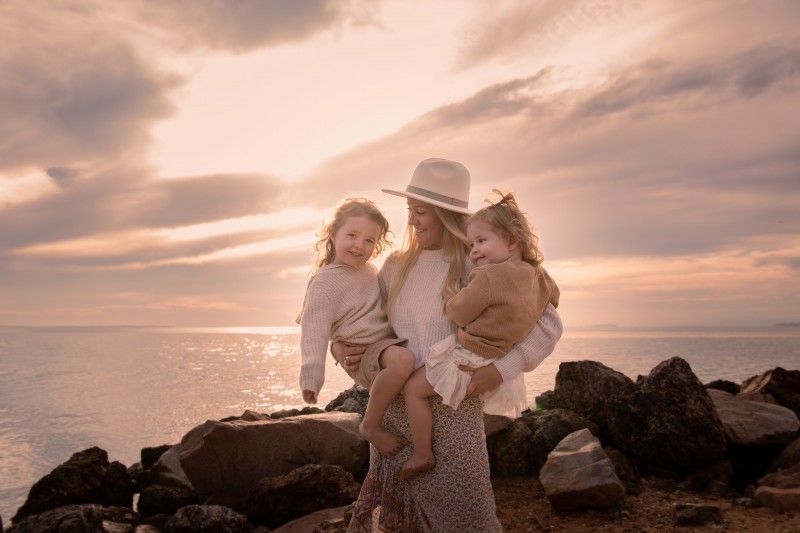 My first loss was at the pandemic's beginning in March 2020, and my fourth loss was in April this year.
All of my miscarriages occurred around the five-week mark. I started bleeding and having complications around the five-week mark with my ectopic pregnancy, but it was missed that a baby was growing in a tube for weeks, and I lost this bub at around ten weeks.
After my first pregnancy loss, I decided I would do whatever I could to help others. With each subsequent loss, this aspiration has become stronger. Part of this desire to help has led me to share my story with other families, for those walking their loss stories now and others, like me, who have been here before and still carry the heartache.
In between my pregnancy losses, one of my friends lost their beautiful 3-month old girl to SIDS. Her loss had such a ripple effect in my world and those around her. Witnessing a friend grieving their loss is on another level. We weren't particularly close, but somehow the loss of her baby girl brought us closer together. Despite her loss, we have been beautiful support for each other. She truly understands my loss, and I hers.
We haven't had an easy time with professional medical support. At times, including when my ectopic pregnancy was missed, we have felt very let down. We've had to push for assistance to gain answers on our recurrent miscarriages and pregnancy loss. After each loss, we would always end up in the exact same hospital waiting room, always with a group of mums in a similar situation and the silence in that waiting room is deafening. You can see the tears and feel the heartache. It's just awful. I can't quite describe it.
Our pregnancy loss and now fertility journey has undoubtedly changed me. At times it has broken me. But I have also grown in many ways. I am proud of the way I have navigated my grief.
Sharing our stories and raising awareness is just one of the small ways we can honour our babies.
Talking about my loss has helped me, and one of the hardest things is when someone makes you feel like you need to be silent as you are making them uncomfortable. Those reactions need to change.
Although I am extremely open about my losses, there are always sadly times when you feel you need to keep silent, even with your partner. Pregnancy loss is incredibly misunderstood.
Share your stories and break the silence by #standingsilent and tagging us on social media.

Our 24/7 support line can be reached on 1300 308 307 or visit our support library

This year to acknowledge International Pregnancy and Infant Loss Awareness Day we are sharing the moments of silence affecting bereaved parents to encourage conversation about pregnancy and infant loss for the month of October.