Almost 30,000 Australians petition Parliament for hospital bereavement rooms & stillbirth suites as the nation marks its 5th annual Say Their Name Day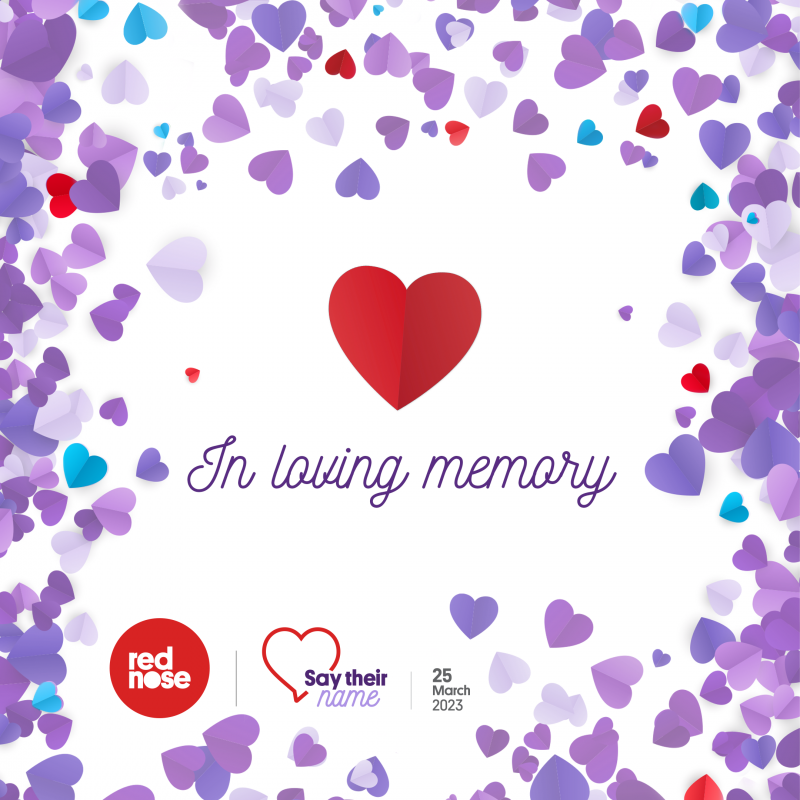 Today - Saturday 25th March - is Say Their Name Day, a day where Australia says goodbye to the silence that sadly all too often follows the devastating death of a baby.
Every year in Australia, it's estimated that around 110,000 families go through the trauma of miscarriage and 3,000 more endure the heartbreaking loss of a baby through stillbirth or sudden infant death.
These devastating losses are often followed by silence. Friends, colleagues and family members are often unsure what to say to grieving parents, and often say nothing for fear of causing further distress.
Red Nose Australia provides a suite of evidence-based support services to parents who have gone through the trauma of losing a baby. Through this work, we know that providing a space for parents to talk openly about their loss can be extremely beneficial.
Say Their Name Day is an annual Red Nose Australia campaign that encourages people to speak out loud about much wanted babies gone far too soon.
Today, many thousands of Australians will be publicly sharing the names or nicknames of their much loved and missed babies as part of our Say Their Name Day campaign.
Red Nose is also currently funding a new $100,000 research project into best-practice bereavement care for parents who lose a baby. This study is being led by Associate Professor Fran Boyle at the University of Queensland.
Parents wanting to get involved in Say Their Name Day can also add their child's name to our virtual memorial wall, create an online tribute fundraiser, donate to Red Nose or share their story on social media. Visit saytheirname.org.au
Australians will also be marking Say Their Name Day by continuing to add their signatures to a current petition to Federal Parliament, calling for the creation of dedicated stillbirth/bereavement suites in maternity hospital across the country.
Created by NSW mum Sophie Toneguzzi, whose son Huxley was stillborn in 2020, the petition currently has almost 30,000 signatures. Sophie and her hospital knew Huxley had died before she went into labour, but the only option was for her to give birth in the standard maternity suite - surrounded by the cries of other healthy newborns being born and compounding her grief. See the petition here
Funds raised for Say Their Name Day go towards vital Red Nose services, including our 24/7 Grief and Loss Support Line and research projects like the current bereavement care study. Devastated parents can speak with a counsellor any time: 1300 308 307.
Quotes from Keren Ludski, CEO, Red Nose Australia
"Everyone knows that talking about the death of a baby can be an incredibly hard conversation. But many parents tell us they want people to talk about their babies. Their babies existed, they were wanted and much loved and they need to feel them acknowledged.
"Say Their Name Day is a way to start opening up this conversation in a really accessible way. Talking about the loss of a baby really can help a parent who is incredibly distressed."
Quotes from Sophie Toneguzzi, creator of petition to Parliament
"Say Their Name Day is so important to all the families that have sadly lost their beautiful babies & children. It's a way to remember them & keep their memory alive."
Quotes from parents
"From the moment Hailie was born sleeping, I immediately talked about her in the present tense. Saying our baby's names is a way to protect and keep their memory going, when they cannot be here with us physically."
- Danielle Thomas, Bundaberg QLD, mum to Hailie (stillborn October 2022)
"Having a day where we actually get to talk about him, which is all a parent ever wants to do with their child, is really comforting."
- Jacki O'Farrell, Melbourne VIC, mum to Oakley (stillborn March 2022)
"An important part of honouring and remembering our twin boys has been to speak their name. We love to be able to use their name and talk about them. I encourage the friends and family of bereaved parents to use their babies name, ask about them and keep their memory alive. As their memory and story is all we have."
- Elise Sheehan, Sydney NSW, mum to twins Darcy and Lachlan (stillborn October 2022)
For interviews and case studies, media contact: Jane Metlikovec 0409 539 880 jane@upstride.com.au