This year's National Remembrance Service was held on Red Nose Day Eve, Thursday 11 August, with hundreds of families coming together to remember their children lost too soon.
Bereaved mother and Red Nose Community Engagement Manager Ashleigh Rousseaux, shares her experience of this year's special service.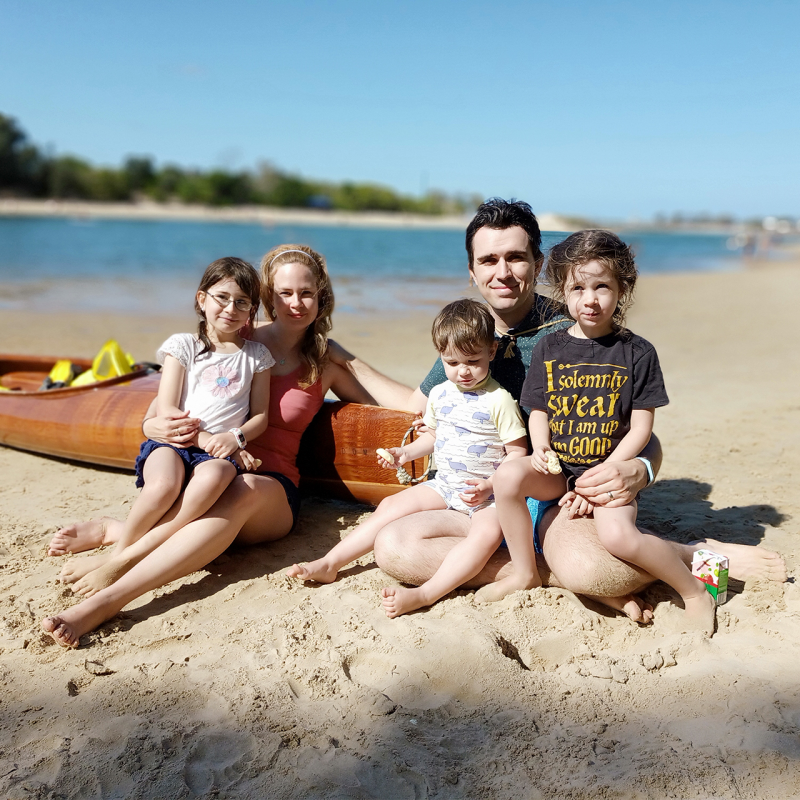 At the start of 2014, I never imagined I would end that year as a bereaved parent.
My husband Sebastien and I were thrilled to be welcoming a new member of our family and our lives were full of hope, joy and excitement for the future.
Then, the unthinkable happened.
Just one week shy of our son Dominic's due date, we learnt that his heart had stopped beating. Our whole world fell apart.
What came next was an unexpected journey full of immeasurable grief and loss that engulfed our lives for what felt like an eternity.
One of the things that helped us cope was connecting with other parents and families who had faced similar grief and sharing some of the special memories that we forever cherish.
Thanks to you, this years' Remembrance Service was again held virtually, ensuring that bereaved parents across the country, whether separated by state, rural areas or even lockdown, could all attend together.
This year's theme was 'An Unexpected Journey - The Embrace of Each Moment.' It immediately resonated with me and brought to mind so many parts of Dominic's story.
Remembrance Services are a vital part of the grieving process for many parents. Coming together to remember our little ones in the presence of others who understand is an incredibly healing experience.
Through songs, lighting of candles and simply being together, our Remembrance Service provided connection and comfort for families across the country, ensuring that no one feels alone in their journey of grief.
Thanks to your support, this year we acknowledged the names and special dates of over 500 babies and children who have died.
Each name represents a little life that is no longer with us and the cherished memories that will stay forever in our hearts.
At Red Nose, I have the privilege of hearing stories both beautiful and heartbreaking of much-loved babies and children gone too soon. For me, hearing these often-untold stories is the biggest honour of my work.
Thank you so much for supporting heartbroken families like mine and for making this very special Remembrance Service possible, so that we can honour our children and heal together.
For 24/7 Grief Support call 1300 308 307 or visit our online Support Library here.

DONATE TODAY to ensure that every heartbroken parent has the support they need.

*Special thanks to everyone who helped make this year's National Remembrance Service special:
Family speakers: Ashleigh and Sebastien Rousseaux, remembering Dominic; Pip Hanrahan; Lynda Beall and Teena Mammino, remembering their shared grandson Patterson; Edwina Symonds, remembering Sebby; Les, remembering Hugh; Ann Pain, remembering Christopher John; and Anne Altamore.
Musical performances by: Adrian Glaubert (vocalist) & Sarah Cossey-Glaubert (pianist), remembering daughter Aria; Eva Glover, vocalist and pianist, remembering Aria, daughter of her friends and colleagues Adrian and Sarah; Tim Bruer, composer and pianist, remembering daughter Jessica.
Artistic reflection by: Sally Le Guen
This service was shaped by a working group drawn from across Red Noses staff teams and volunteers. Contributors included Anne Altamore, Alicia Rennie, Ariana Kim, Ashleigh Rousseaux, Emma MacKenzie, Gillian Graham-Crowe, Jess Crawford, Janne Serdloff, Kate Cowmeadow, Lacey Fitzgerald, and Sally Le Guen.