When a parent loses a child, they are not only left heartbroken, they are left with empty arms and a lifetime of grief.
And while in unimaginable shock and heartache, they must also collect and savor as many memories of their child as they can – the only memories they will ever get to create with their child.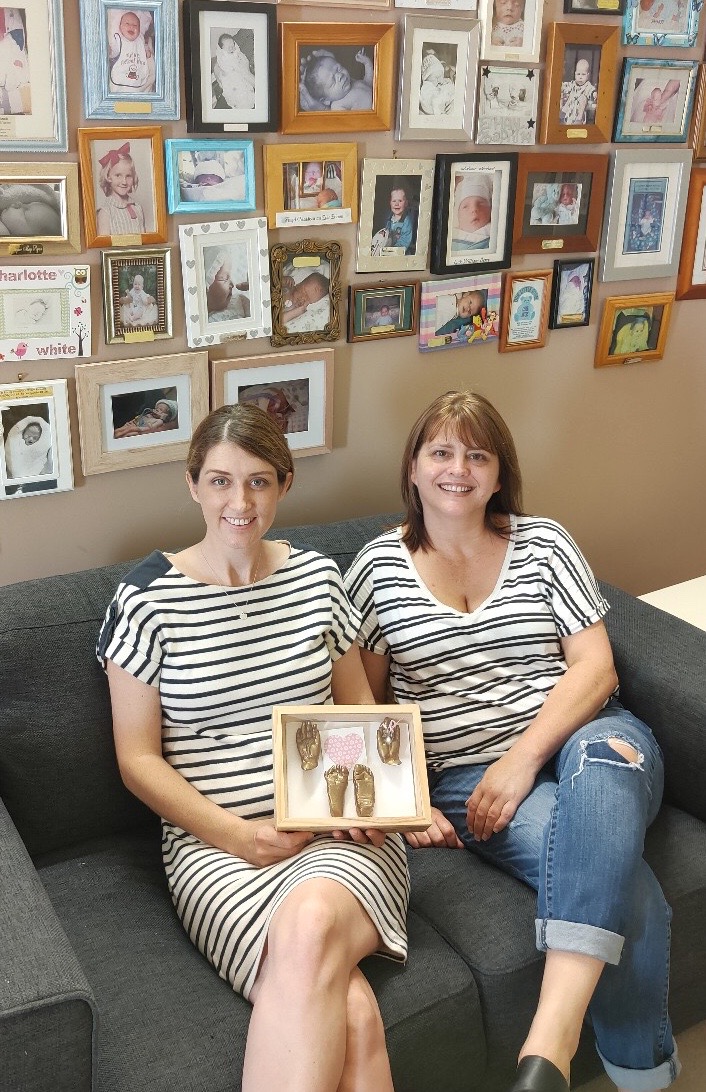 The Memory Collation program is a free service delivered by Red Nose in partnership with local hospitals that provides precious, tangible memories for families to cherish as they walk the tragic path of grief.
After a child has passed away, these priceless memories are lovingly collected by a specially trained Red Nose Volunteer who will visit with them in the birthing suite, maternity ward or the morgue to take molds and ink prints of the baby's hands and feet, as well as locks of their hair.
Our team then preserves them in a beautiful Memory Box that is presented to the grieving parents as one of the only keepsakes they have left.
Program Coordinator Shellie says "Most parents I speak to say that the Memory Box with the castings of their child's hands and feet take pride of place in their home. Having the castings on display in their home gives family and friends silent permission to speak about their baby and remember their life."
"Because we love to talk about our child, just like any other parent."
Castings - Families can touch them, feel them and hold them. They can examine the tiny details of fingernails and wrinkles. Some families hold their casting so tightly that they need to bring them back for repair.
Ink Prints - These intricate prints are displayed in a delicate scroll for older children, or in a small acid-free card for little ones, labelled with their name.
Lock of Hair - A precious lock of hair is preserved in a decorative small box. Some families will enclose this precious piece of their child in a locket they can keep with them always.
The Memory Collation Program is an important part of Red Nose's network of Grief and Loss Services. Because in the midst of shock and grief, the last thing a family should have to think about is what precious few mementos they will preserve to keep their baby's memory close for the rest of their lives.
Bereaved mother, Skye believes that the Memory Collation Program was vital in her healing – not only providing her and husband Trent with their daughter's treasured molds, but because it's also what first got her though the door at Red Nose.
Skye said "I'm not sure that I would have initially reached out for ongoing support if it hadn't been for the experience of getting the castings done. A month after Nina passed away, I received a call from Red Nose that my molds were ready to be collected.
What I thought would be a quick drop in, turned into over an hour of talking to the Red Nose staff and realising just how overwhelmed with grief I was.
I then took the offer of ongoing counselling support with counsellor Moira that I am so grateful for. Moira provided me with much needed support in order to help me navigate my way through my grief and eventually return to work."
Every family's journey of grief is different and complex. As well as our unique Memory Collation Program, our network of grief and loss services includes additional supports such as parent and family support, sibling support, peer and group support, annual memorial services and our 24-hour Bereavement Support Line.
Red Nose provides all these vital support services for free, because cost shouldn't be a barrier to healing a broken heart.
When you lose a child, moving forward feels impossible. And for those families, Red Nose is there to help guide parents along the lonely journey of grief.
Donate today

to help heartbroken families create irreplaceable memories, and fund vital support services so that no family has to walk the lonely path of grief alone.