First-time grandmother Libby Olifiers shares with us the impact of learning about Safe Sleeping and how it has helped renew her confidence and grow a stronger bond with her daughter.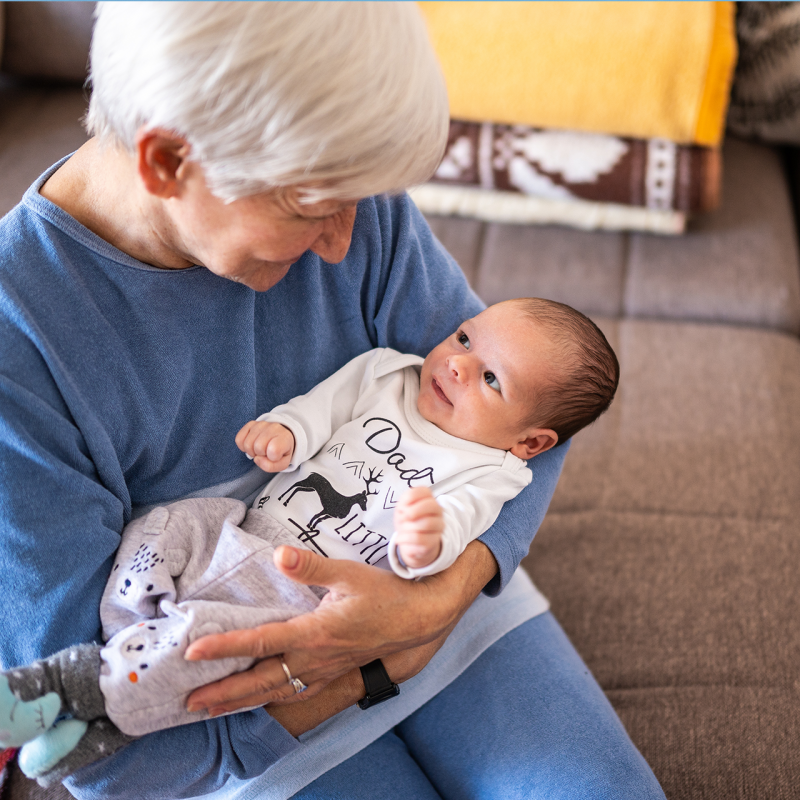 When it comes to Safe Sleeping for babies, there's a wealth of information out there and it's often hard to know what's correct or up to date.
Thanks to you, Safe Sleep presentations help new parents and grandparents, like Libby, know how to keep our precious new babies safe.
Libby said, "As a first time Grandmother, I attended the Pregnancy, Babies and Children's Expo to see all the new trends and advice."
"I want to be an active part of my grandchild's life, just like my mum was for my children many years ago.
"I'll admit it was a little daunting and overwhelming at first. But then I noticed the Red Nose stand – they were presenting about Safe Sleeping.
"I'd recently had many discussions with friends about the preferred sleeping position for a baby, so I decided to listen in for a few moments.
"As I stood there, it reminded me that learning and being open to current information was vital, because so much had changed since I was a new parent.
"Topics included Safe Sleep, Tummy Time, Cot to Bed Safely and Safe Wrapping. It was friendly, and non-judgemental, with everyone wanting the same outcome - a healthy, happy baby.
"The information was all backed by research and it took away my anxiety and left me with a strong sense of relief."
Click on these links to learn about Safe Sleep:
"Thank you so much for funding these vital education presentations and helping give me the confidence to be an active part of my grandchild's life. That is incredibly special and important."
"Safe Sleep presentations are vital to give new parents and grandparents the tools they need to keep a new baby safe at home." – Tiffany Fryett, Senior Educator at Red Nose
For the latest evidence-based advice on how to keep your baby safe, visit our Safe Sleep Advice Hub here.
DONATE TODAY to help us bring our Safe Sleep information and advice to more parents and carers in our community.