There are many dedicated staff, volunteers and supporters who together make the work of Red Nose possible. This is Nick's story.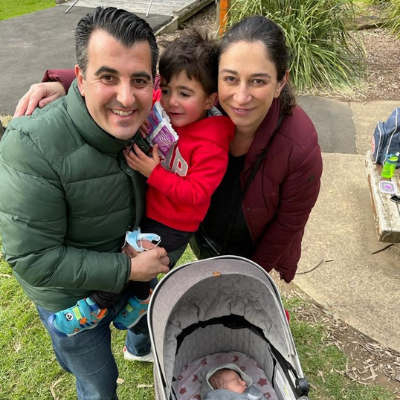 I've been a member of the Red Nose Board of Directors since December 2020.
Prior to that I was on the Sands board. I came to Sands firstly as a bereaved parent. My wife and I attended Sands support meetings in Mt Waverley after our baby son, Angelo, passed away at just two weeks of age.
I often say that being a bereaved parent is like joining a club no one really knows about. And then suddenly you're in that club for the rest of your life.
Giving my time to help others who will unfortunately go through the death of a baby or child in the future is my way of being able to give back – not just in memory of our son, but in memory of all those babies and children whose lives have been lost, or who due to things like miscarriage were never even born.
My background is in government relations and public policy. I bring that experience to Red Nose to help our co-CEOs with their strategy and outreach to Government on a range of different programs, like the pilot Hospital to Home program, for which we received Federal government funding to provide intensive support to bereaved families following stillbirth and newborn death.
I'm really proud of that program and I hope that it will be successful and result in this kind of care becoming standard practice across Australia.
It has the potential to reduce a lot of suffering. Going home from hospital without your baby can be so traumatising. Parents are confronted by a beautifully set up nursery for a baby who will never come home. They have to plan a funeral. Tell their families and friends. Negotiate with their employers. A lot of people don't know where to go to find help. My wife and I certainly didn't.
It's one of the board's priorities to ensure Red Nose's prevention and support messages reach all of the communities who can benefit from them. Reaching communities where language or social issues may be a barrier to accessing our messages is a challenge we are working through. We know we can't mitigate every single risk for every single family, but it's our role to help every family minimise those risks as much as possible.
When people know the risks, and know that it's backed up by robust research, they can make informed decisions about their pregnancy or the way they care for their baby or child.
As a father, this has been a learning curve for me too.
After Angelo, we had another son, Arthur, who is now almost 3 years old. We also have a newborn baby girl, Mia.
With Mia, I know much more about safe sleep and the risks of SIDS than I did with Arthur, and I hope that with further research we'll continue to refine those risk factors even more so that families in the future won't have to experience the devastating loss of a baby or child.